Custom Search
Affordable Websites + SEO + Superior Web Hosting
= More Business!
If you already have a website but aren't getting new business from it, we can help! With a little research, we'll find out why your website isn't working for you. Then, we will fix your website and help your business grow!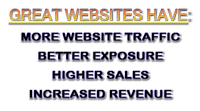 After we fix your website, it will start coming up more often for what you have to offer and you'll get more targeted visitors to your website ... these targeted visitors are specifically looking for the products and services that YOU have to offer.
It's not enough to have any old website anymore ... there are millions of other websites on the internet who have fully functional websites that want to lure your customers away.
With millions of other websites on the internet, who compete for your customers, it's not enough to just have a website anymore ... You need to have the proven experience and expertise of a website designer that will get you results!
With a professional website from Hunter Creative Group, you will have the best chance for success because we take the time to create a fully functional website and put it on the internet using a superior web hosting server. Plus, we create the website with search engine optimization techniques incorporated in to the web design. And, we don't stop there ... then, we provide web indexing and web submission services so that your website can be found easily. All of these FREE 'extras' that you get, when using our services, will give your company the best advantage and highest chance for success.
We offer a Complete line of Website Design and Development Services:
Domain Name Registrations
Superior Website and Email Hosting
Custom Web Designs
CMS & eCommerce Sites
Custom Email Marketing Templates for Email Campaigns
Website Optimization
Search Engine Indexing & Submissions
Website Analysis & Review
Website BackUp Services
Website Maintenance & Updating

Plus, we offer related products and services for your convenience:
Company Branding
Printed Promotional Products
Photo & Document Scanning
Digital Transfer Services, VHS to DVD
New Computers & Servers - We are a Registered Dell™ Partner
IT Data Security & Networking
We are centrally located in Iowa but we work with clients in all 50 states.
Email
or call us at (319) 334-7139
with questions or request for services.