Top-Ranking Websites for Used Car Dealerships
or New and Used Classic Auto Parts Dealers
MORE TRAFFIC = MORE AUTO SALES
GUARANTEED RESULTS !!!
If you have a new or used car dealership or are a classic car parts dealer, we want to talk to you!
We get websites to the top of the searches by optimizing for keywords that are relevant specifically for YOUR website. The two examples, shown below, are optimized for Chevy and Chevrolet Cars, as well as, new and used Classic Car Parts. They are both good examples of high-ranking websites in the auto industry.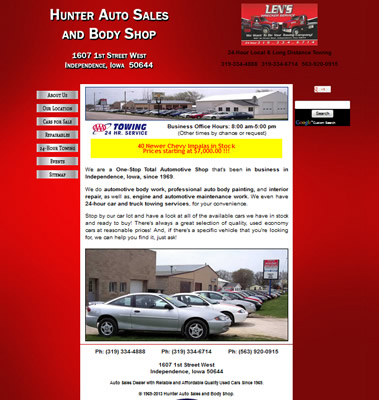 Hunter Auto Sales and Body Shop - This car dealership is located in Independence, Iowa. They are a full-service professional automotive body and repair shop that handles body work and painting, interior repair, engine and maintenance repairs, as well as has 24-hour towing with Len's Wrecker Services. They primarily deal with quality used Chevy Cavaliers, as well as quality used Buick Impalas. They currently have many car choices in stock and available.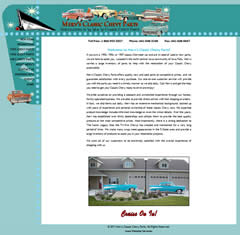 Merv's Classic Chevy Parts - This new and used classic car parts dealer is located in Iowa Falls, Iowa. Merv's Classic Chevy Parts offers quality new and used Chevrolet parts for 1955, 1956, 1957 classic Chevy's at competitive prices. They guarantee satisfaction with every purchase and their one-on-one customer service will provide you with the parts you need in a timely manner since they ship our their new and used car parts daily.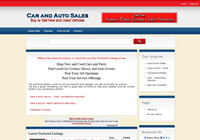 Car and Auto Sales - Car and Auto Sales helps you to advertise your cars, trucks, and other automobiles or vehicles for sale ... or buy some local vehicles online! This is another Car Website Coming Soon that's already started to get ranked in the search engines and it's just days old - very new!!!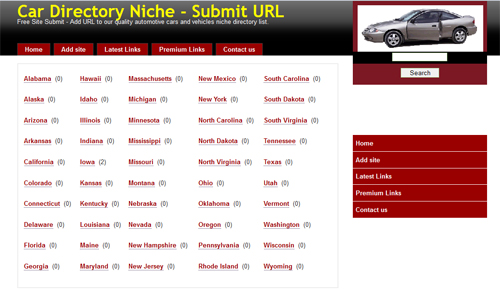 Car Directory Niche - A brand new Car Directory Niche is the free website to submit your site to and add your URL to so that your website is found quickly and gains page rank.
It doesn't matter if you already have a website or have been thinking about getting a website. We can help you get your cars and parts in front of so many more people ... give us a chance to prove our success with your business!
Please be aware that with the millions of websites already on the internet, it is not good enough to just 'have' a website ... there is so much more to do to the website to make it become listed in the top few pages. Also, realize that anything past the first or second page in the search results probably won't even get a look - that's why it's so important to have a top-ranking website!
It will take approximately 9-12 months for the full effects of any website optimization to be seen. However, quicker results can be seen ... as in the cases of Hunter Auto Sales and Body Shop and Merv's Classic Chevy Parts. It didn't take either of these car and auto parts websites very long to climb this high in the organic search engines rankings.
In fact, if you are reading this page, it is because you probably came across it in the top pages in your search for a website with Chevy Cars or Classic Chevrolet Car Parts.
Also, be aware that if anyone promises they will get you to be #1 in the search engine rankings, run the other way ... Absolutely No One can guarantee top rankings ... ONLY Google can guarantee your placement in the search engine results ... however, with that said, there ARE things that can be done to help your website get good, strong rankings in the search results.
Contact Hunter Creative Group to see what we can do for you!
Tammy Hunter,
Car and Auto Parts Website Designer and Developer in Iowa
Specializing in High Traffic for Car, Auto Parts, and Automobile-Related Websites