Affordable Websites + SEO + Superior Web Hosting
= More Business!
If your website isn't getting you business, we can help ... and, we have the references to prove it!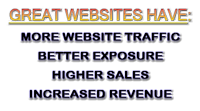 With research, we find out why your website isn't performing. Once we know what's wrong, we can start to fix it so that your business will grow.
After we've fixed your website, you'll start to get targeted traffic to your website. Targeted visitors are the best because they are specifically looking for the products and services that YOU have.
How do we fix the website, you ask ??? ... The answer is simple, we get your website to come up 'naturally' - and more often - in the searches by re-creating your website with search engine optimization techniques incorporated directly in to each page of the custom website design.
It's not enough to have just any old website anymore ... there are millions of other websites on the internet who are directly competing for your customers. For this reason, you need to have the proven experience and expertise of a website designer that can get you results!
Our Custom Websites Ensure You Get the Best Success!
We create each website using actual code - not pre-made generic templates. We give each website a custom-designed theme that builds your company brand and assures website visitors they are on your website.
We create each website with search engine optimization techniques incorporated directly in to each page..
Each website is fully functional with an easy navigational system so your website visitors find what they are looking for quickly and easily.
We use the best web hosting technology so your website is working efficiently, without errors or slow page-loading times.
We submit your website to search engines so that your website is listed in the searches. This helps your business get found online quickly.
Our new main street office has a retail store. Our web clients display and sell items in the new store. This is an exciting enhancement to our business and is a great opportunity for our web clients to get free exposure and additional advertising!
All of these bonuses will give your company the best advantage and highest chance for success. Other website and design companies charge additional fees for the bonuses (if they even have them available). We don't charge you for the 'extras' because we believe the better your website does, the more exposure your business gets - and that makes our business do better- so we want to give you the best chance for success!
When Your Website / Business Succeeds, We Succeed!
We're centrally located in Iowa and work successfully with clients in all 50 states.