Custom-Designed Professional Clear, White, Metallic Gold or Silver Foil Address Labels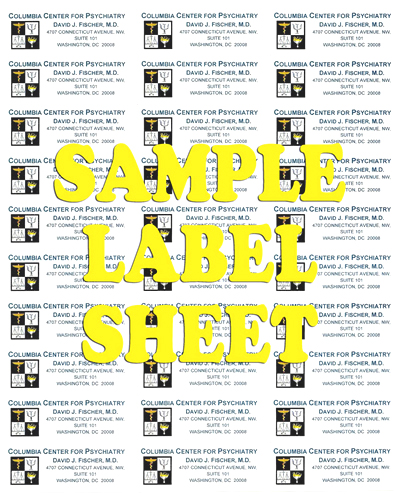 These custom-made, self-sticking return address labels (shown below) can be created for businesses with your logo and business information or for personal use with an image or photograph you send us. They are printed on a high-quality laser printer to give your labels a crisp, professional look with your preferred choice of background (white, clear, or metallic looking with gold foil, or silver foil).
The labels (as shown in the photos below) appear smaller than they actually are. These standard return address labels are 1" x 2 5/8". There are 30 labels per page.
We can create custom labels for you easily, just send us a good digital copy of your company logo, image, or photograph and information. By having us create your labels, you save time, money, ink, electricity, manpower, and frustration. We can do it quickly and professionally. Let us help you!
It will take up to 48 hours to design the labels before you have a digital proof to inspect. Please note that the silver and gold scans will not come out as well as the actual final copies, due to the poor imaging of the metallic foil gradients. However, if requested, we can mail out an actual sample for your inspection (not available for clear and white backgrounds).
After your inspection and approval of the proof, we'll have your order printed and ready to mail out within 72 hours. We will ship the order using USPS Priority Mail so that you can receive your labels quickly.
For additional sizes or special order sizes, please contact us. The turnaround time may be different, depending on label availability.
Sample sheets are shown smaller than actual size: