Custom-Designed Business Card Promotional Magnets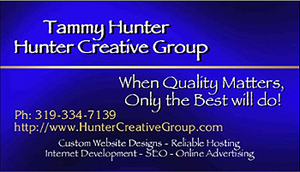 These customized, full-color magnets were created for a promotional item to hand out to our potential clients. We have these magnets set up with our business card information, but they can easily be made using other promotional information to announce upcoming sales.
The magnets can double as a business card and are easy to give have and hand out as promotional items.
The actual size of these magnets is the standard size of a business card (approximately 2" x 3 1/2"). We use a variety of finishes (high gloss, gloss, flat, etc), depending on the style of the business card and what will turn out the best.
We can create custom business card magnets, or any type of promotional magnets, for you. Just send us a good digital copy of your company logo, image, or photograph and any other business information that you want us to set up.
As an added bonus, if we have are in the process of creating custom business cards for you, you will save even more if you purchase these as business card magnets with your business card order.
It will take up to 48 hours to design the business card magnets, or the promotional magnets, before you have a digital proof to inspect.
After your inspection and approval of the proof, you'll have your order printed and delivered to you within 10-14 business days.
If you have any questions or would like to have some customized full-color magnets designed, please feel free to Contact Us.