Blank CD / DVD Discs with Custom Designed Labels
Create Your Own Promotional Materials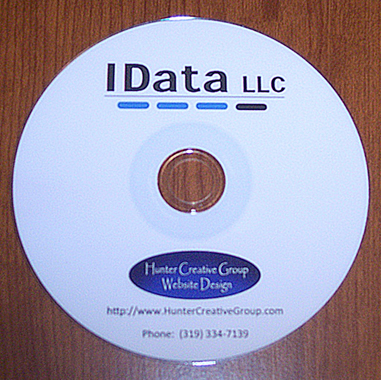 These customized, full-color CD or DVD Discs come blank (with no information on the disc). We only create the promotional disc cover for you by adding your logo, artwork, text, and whatever other information you'd like shown, but you create the promotional information and add it directly to your blank discs.
These work great if you have software you want to send out to prospective clients - or even promotional material that youhand out directly to your customers.
This particular CD disc, shown at right, was made for a client after he ordered our logo design services. However, if you are ordering custom discs, we do not add our logo or contact information to the discs, as we have done to this one. There will be no branding - except yours.
Each disc will come with its own white disc sleeve for protection and will have a see-through window in order to maximize company branding and exposure.
The CD or DVD can come as rewritable or not rewritable. We suggest getting the non-rewritable CD's or DVD's simply for the fact that if you are using these as promotional items, the people that you give them to will not be able to erase your marketing material or whatever you have put on the CD or DVD. As a general rule, per our supplier, the rewriteable discs are more expensive.
CD's and DVD's are a great way to help brand your company by helping you to build continuity between your online and offline promotional materials. If branded with your company logo, your blank, custom labelled CD's and DVD's will encourage company and product recognition and awareness by familiarizing your target market with your company at a glance.
It will take up to 48 hours to design the digital proof for these CD's and DVD's. Once we do this, we will send you the proof to inspect.
After your inspection and approval of the proof, you'll have your blank, custom-labeled CD's or DVD's delivered to you within 10-14 business days. RUSH orders are available, if you need them sooner.
We can create many custom business products for you. Just send us a good digital copy of your company logo, image, or photograph and business information.
By having us create your printed items, you save time, money, ink, electricity, manpower, and frustration. We can do it quickly and professionally. Let us help you!
If you have any questions or would like to have some full-color Custom Labeled Blank CD's or DVD's designed, please feel free to Contact Us.
---
Another Great Marketing Technique:
Business Card Marketing Envelopes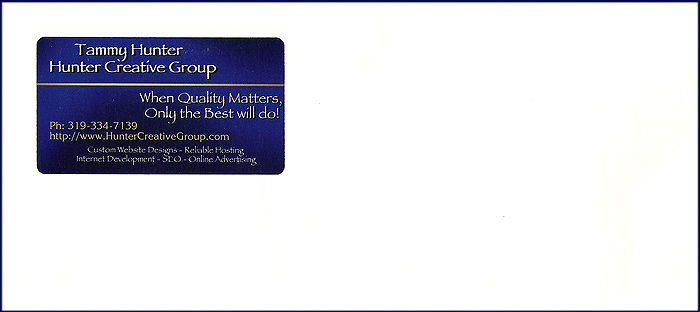 Click on the envelope to learn more about these promotional business card marketing envelopes!
The image is an actual scan of our business card marketing envelopes with a business card (of ours) shown in the window. Please note that the size showing is not accurate since we had to shrink it down to show on this page - and, the coloring is off. They are a bright, crisp white color and it is a standard-sized business envelope.